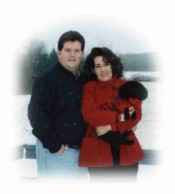 Hi there and welcome to my woodworking site!
My name's Rick, and you'll find me in the picture above being complimented quite well by Darragh, my wife of 9 years.
By day I sit at a desk in my home, on the phone, in front of a computer screen. Or I'm on a train, plane or in an automobile. By night and on weekends you'll likely find me with my wife, or involved in a church activity, running errands, or enjoying some form of entertainment. In between all of that, I try to find some time to work with my hands and satisfy that internal craving to build something and put a gleam in someone's eye.
One child keeps us busy, and she's in the picture as well. Suzy weighs 12 pounds, is covered with black fur and really enjoys our company. Fortunately, small poodles require less maintenance than real children, otherwise I'd never have gotten this site off of the ground!
I still have a lot of plans for this site, and one of them is to be able to showcase actual Creations made in Rick's Woodshop, so to be true to the site's name. Though my focus has necessarily changed since when I first came up with the name, I aim to get back on track creating things as soon as I can, and hopefully long before I have to retire to do it :-)
I'd really like to focus primarily on creating rocking horses, as there's something magical that happens when a child's imagination encounters the wonders of a well-made steed, a magic that will be passed to children of future generations with their own adventures to be fulfilled. And in this day and age of video games and less imaginative entertainment, I think that can only be a good thing.
Have fun exploring and drop me a line sometime . . .
~ Rick