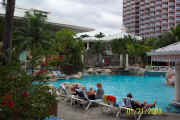 Plenty of seating for everyone.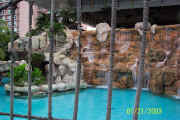 View from the bridge.




Waterfall or rain?
On our first sunny day we snapped some shots of the pool. This is one of three, though certainly the most utilized and where the volleyball games were played. The temperature of the pool or ocean water wasn't as warm as we would have thought, however you don't care once the hot Caribbean sun starts heating things up.

Of course had we known we'd only have 2 days of sun . . .

Rick did participate in the daily water volleyball games (Rick was on the winning team twice and received exactly what you'd expect down here as a prize: bottles of rum. Rum is everywhere as is common in the Caribbean.)



The Grande Jamaican Resort is a four-star resort, and offers everything one would need to be able to experience an enjoyable vacation here in the West Indies.
We are particularly thankful that Marriott decided to purchase the Renaissance chain of hotels and resorts a few years back allowing us to use Marriott points to cover the cost of the stay.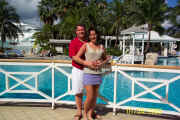 Now there's a handsome couple!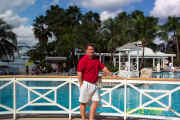 Handsome football player . . .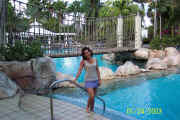 . . . or lucky football player?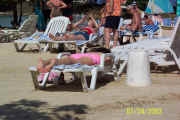 Bathing Beauty.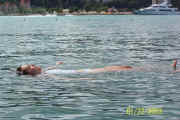 Nothin' like the feelin'.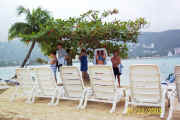 What to do when it rains.
The beach was the place to go to get sun-burned, and we did our part to ensure that we made the most of it.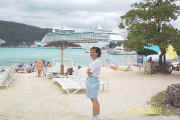 Taking it all in.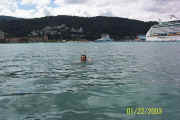 Is that a mermaid I see?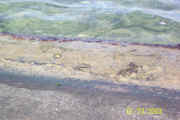 Can you find the crab?
The beach is fun at night as well; less crowded, little chance of sunburn and you've no competition for the rental boats!!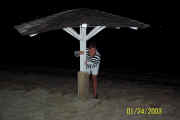 She'll be getting no sunburn today.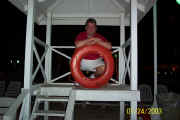 "This is a tale of a sailing ship . . ."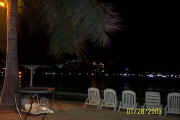 Tableside view.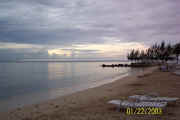 Sunset is nigh.




"Hmmm. I wonder how cold my friends are back home?"